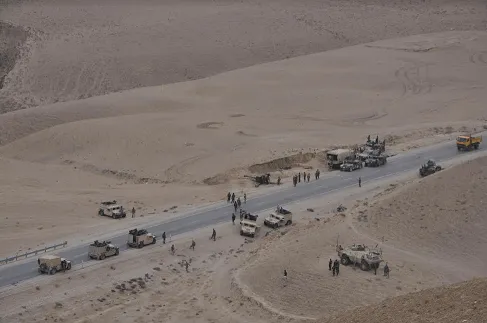 Five security personnel have been killed and eight others wounded as result of a Taliban attack in northwestern Faryab province, local officials said on Tuesday.
Feroz Dehndaragi, the Public Protection Unit chief, told Pajhwok Afghan News the Taliban attacked Public Protection and National Directorate of Security (NDS) personnel in Abgardan Dehndara dam area on Monday night.
He added in the ensuing clash that continued until 2am, five Public Protection and NDS personnel were killed and eight others wounded.
He claimed that Taliban faced heavy casualties during the clash; but no specific figures were immediately available. Taliban have not yet commented on the battle abd casualties.
Dehndara dam lies 12 kilometres south of Maimana, the capital of Faryab.
Meanwhile a reliable source said armed the Taliban exploded an excavator that had been delivered to Almar district for reconstructing a base of the 209th military corps.
The source added after the explosion, a clash between Taliban and government forces occurred. A shop and a home were torched as a result.
A man was gunned down in the seventh police district of Maimana on Tuesday morning the police spokesman said.
Abdul Karim Yourish said Gul Ahmad, 30 years of age, was shot dead by Ma'azullah at around 8:30am over personal enmity.
He added the perpetrator managed to flee but police had launched a hunt for him.
Mohammad Salim, a relative of the victim, said Gul Ahmad sold mobile phone accessories to support his wife and five children. He was gunned down on his way to work.
He explained Hafizullah, father of the killer, was killed last year inside his shop. The bereaved family accused Fazal Ahmad, a brother of Gul Ahmad, of the murder.