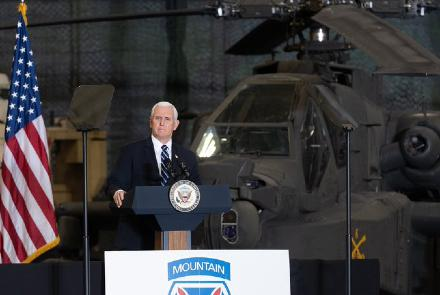 Pence said US forces mission in Afghanistan has been vital to the security of the American people.
US Vice President Mike Pence in an address to soldiers who returned from Afghanistan said because of their "service in Afghanistan, there has not been another major terrorist attack on America in the intervening 19 years."
He thanked the soldiers of the 10th Mountain Division in Fort Drum, New York, for their service around the world.
"And you've given the Afghan people the hope of freedom, a chance to determine their own destiny (and) to chart a better future," he said, quoted in a statement by US Defense Department. "Today, Afghans are in peace negotiations. I'm proud to report with gratitude to the 10th Mountain Division: Not a single American combat casualty has occurred in Afghanistan since February of last year."
"With thousands deployed every day, 10th Mountain brigades have served a combined 46 deployments to Iraq and Afghanistan," Pence said. "The first conventional units to deploy into Afghanistan after 9-11 came from right here at Fort Drum. The 2nd Brigade Combat Team and the 10th Sustainment Brigade are deployed in Afghanistan even as we speak."
The US vice president said that units of the 10th were the first conventional units in Afghanistan and division units may be the last conventional forces that must deploy to the country.
"Your mission in Afghanistan has been vital to the security of the American people," he said. "This year, we'll mark 20 years since the forces of radical Islamic terror plotted and perpetrated the deadliest attack on the American homeland in the history of our country. From the safe haven of Afghanistan, the terrorists of al-Qaeda struck the United States."
There are currently 2,500 US service members in Afghanistan and 2,500 in Iraq.