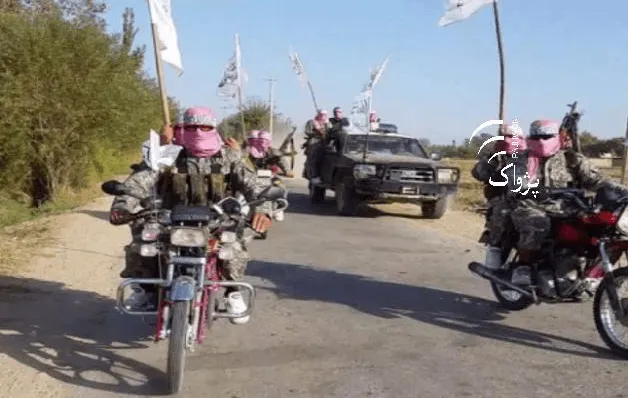 Some residents, Provincial Council members and civil society activists, worried about growing insecurity, say 90 percent territory of northwestern Faryab province is under Taliban's control, a claim spurned by officials.
Local residents say a surge in militant attacks in different areas has resulted in the killing and displacement of the people. Roadblocks placed on highways by security forces are a headache for passengers and drivers, they complain.
Provincial Council Chairman Mohammad Tahir Rahmani told Pajhwok Afghan News: "The security situation in Faryab has significantly deteriorated over the past two years. Many districts have fallen to the Taliban."
He claimed: "In every battle, more than 100 security personnel are killed but the authorities concerned seem to be least bothered about the slain soldiers' children and wives."
The public representative recalled: "Last year, more than 30 to 40 villages were under security forces; control in each district. But currently, only the district centres are controlled by the security forces who are under heavy threat."
Last year's military operation was a futile exercise, in which soldiers were lost, people displaced and money spent uselessly, he alleged.
"Areas under government control in Andkhoi, Qarghan, Khancharbagh and Qarqol districts could be lost as soon as Gen. Dostum-led forces withdraw," he believed.
The reason behind the increasing insecurity, he said, was lack of coordination among security institutions inadequate attention from the government to these areas, said Rahmani.
He added the security personnel were not paid salaries in time and their families were in dire need of food and other essential items.
Syed Zainuddin Abedi, head of civil society organisations, called the security situation in Faryab worrying. Bodies of soldiers were delivered to their families and daily, he said.
The government controlled only 10 district centres and main roads were under Taliban's sway, he maintained, saying only common people could travel them.
"Security forces have been playing villains in the past few days and don't allow common people to travel the roads from 4:00pm to 7:00am," he remarked.
Ghulam Farooq and Mohammad Nasir Naseri, transport company representatives, blamed the security forces for bothering passengers and drivers on the Maimana-Andkhoi road.
Vehicles were not allowed to ply the road from 5:00am to 8:00am, they grumbled. The security forces opened fire on the drivers violating their orders, they said.
They said four to five 404 model passenger vehicles travel from Kabul to Maimana and vice versa every day, but on arriving in Shirin Tagab and Dawlatabad districts, the vehicles are not allowed to proceed after 5:00pm or 8:00pm.
Passengers, including women and children, are forced to spend the night in these vehicles or in mosques along the highway without food and warm place.
GhulamFarooq called on security officials to address the problem of drivers and passengers as soon as possible.
Mohammad Zarif, a driver on the Herat route, said he was heading to Herat from Maimana last week when ANA soldiers stopped him in Almar district and forced him to take a tank full of explosives away from the area, where the Taliban set on fire his vehicle and the tank.
He added the tyres of his vehicle were punctured by Taliban bullets, so he fled and took refuge in an ANA checkpoint. The explosives-packed tank when exploded, it destroyed his vehicle. He sought compensation from the government.
Col. InsafullahDawlatzai, commander of the 1st brigade of the 8th Shaheen Military Corps in Faryab, in response to the claims of the provincial council members and civil society, said the Operation Shaheen 117 had good results as the security forces reopened the highway and recaptured strategic and key areas in Andkhoy, Qurghan, Qarmaqul and KhwajaSabzposh districts.
He said during the operation, the militants were inflicted heavy casualties as more than 400 militants were killed and hundreds of others wounded.
According to him, after being defeated, the Taliban took advantage of weak points in cooperation with their comrades in neighboring provinces and stormed Qaisar district and as a result the security forces went through a difficult situation, but the rebels suffered heavy casualties in an airstrike that killed 150 rebels.
Referring to the killing of 47 security forces and dozens of civilians in Operation Shaheen 117, he said if the provincial council had any proof, it should be presented and he was ready to face justice, otherwise, they should not ignore the sacrifices of the security forces for personal gains.
He added before the launch of the operation, the provincial leadership had already informed people to stay safe.
"Marshal Abdul Rashid Dostum is one of the purest generals of the country and the pride of Afghanistan, the district of Andkoi will collapse if Marshal Dostum's guards leave."
He denied harassment and killing of drivers and passengers by ANA soldiers along the highway, adding that all these were rumors of those having links with the Taliban.
Police spokesman Abdul KarimYourish said a tank full of explosives had recently been defused on the highway before reaching its target.
Faryab Governor NaqibullahFaiq denied the security situation in the province had worsened, saying that the Taliban had not been able to advance a single step in recent one and a half years.
"Yesterday, they searched for the Taliban for eight hours in Black Hawk helicopters, we did not find a Taliban, the four districts are completely safe and the security forces have made significant gains in KhwajaSabzposh and Qaisar."
Fayeq confirmed that Faryab, like other provinces, was witnessing fighting and attacks by militants.
Regarding the complaints of passengers and private companies against security forces on the highway, he said: "The Taliban tried to carry out eight car bomb attacks in the last few weeks, but six of these attempts were detected and neutralized. On the night the passenger cars were stopped, there was fighting. In order not to endanger the lives of passengers, the security forces stopped the vehicles. What was their purpose? They should be thankful instead of complaining."