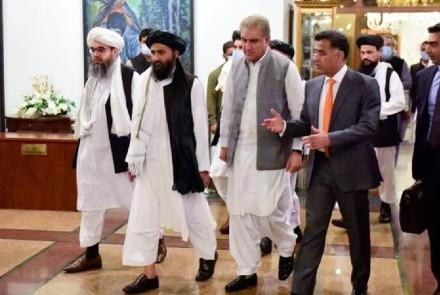 President Ashraf Ghani has said that Kabul-Islamabad ties are weak and the Taliban should cut their ties with Pakistan.
The Ministry of Foreign Affairs has asked Pakistan and other countries with a stake in Afghanistan's future to put pressure on the Taliban to agree to a reduction in violence, a ceasefire and to cut their ties with terrorist groups.
"We expect Pakistan's government and all our international partners to force the Taliban to acknowledge their commitment to reducing violence, ensuring a countrywide ceasefire and cutting their ties with terrorist groups to create the grounds for meaningful peace and political agreement," the Afghan foreign ministry said in a statement.
President Ashraf Ghani last week said Kabul-Islamabad ties are weak and that the Taliban should cut their ties with Pakistan.
"Trust between us is weak. Respect is prone to risk. Interests have not been defined properly. The Taliban should consider all this," Ghani said.
Afghan officials said they are still concerned about the safe havens of the Taliban in Pakistan.
"They are those who have been raised along with their children in Quetta and Peshawar streets and their dependency is mostly on that country and they consider that country as their own," said Ahmad Zia Saraj, the head of the National Directorate of Security.
"(The Taliban) is controlled by them and (the Taliban) are the servants of an intelligence agency that is conducting killings in our country every day," National Security Adviser Hamdullah Mohib said. "They see everything as un-Islamic here and they undertake destructive activities."
Some former diplomats said that Kabul needs the sincere support of Pakistan to gain success in the peace process.
"The Ministry of Foreign Affairs is trying to convince countries of the fact that peace in Afghanistan favors all," said Nizamuddin Katawazi, a former diplomat.
Najibullah Alikhil, Afghan ambassador in Pakistan, said that practical steps have been made for trust-building between the two countries in recent months.
"The mechanisms were discussed and were agreed upon between the two sides in Imran Khan's visit to Kabul. And we are discussing these mechanisms," the Afghan envoy said in an interview with Khyber News.