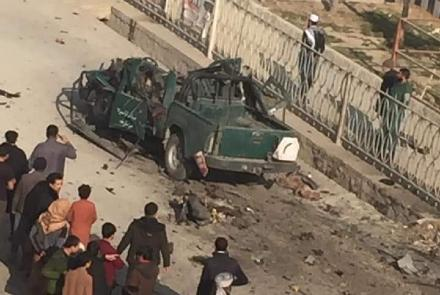 The first blast occurred at 8:04 am local time in the Despechari area in PD15 of Kabul city.
Four explosions at separate locations occurred in Kabul on Wednesday, with Kabul police so far confirming that two police personnel were wounded in the Despechari area and a source claiming that two police had been killed and two more were wounded in the Salim Karwan area.
The first explosion in the Despechari area of PD15 in Kabul occurred around 8:04 am and was caused by a magnetic mine, said police, wounding two police personnel.
The second blast happened in the Salim Karwan area in PD12 of Kabul city and targeted a police vehicle, killing two police and wounded two others, a security source said. The police have not confirmed this.
The third blast was reported in the Shahr-e-Naw area of Kabul in the afternoon, and police said there were no casualties.
The fourth explosion struck a vehicle in the Golayee Dawakhana area in the western part of Kabul city, leaving at least two people wounded, sources confirmed.
Meanwhile, At least two Afghan policemen were killed in an attack on their post in Tawalat village of Paghman district in Kabul on Wednesday afternoon, a security source told TOLOnews. The attackers also seized police weapons, the source said.
According to the security sources, the targeted vehicle belongs to a mental health hospital and three of its doctors have been wounded in the blast.
No group including the Taliban has claimed responsibility for the blasts.
On Tuesday a blast from a magnetic mine killed one person and wounded another in a civilian vehicle, Kabul police said.