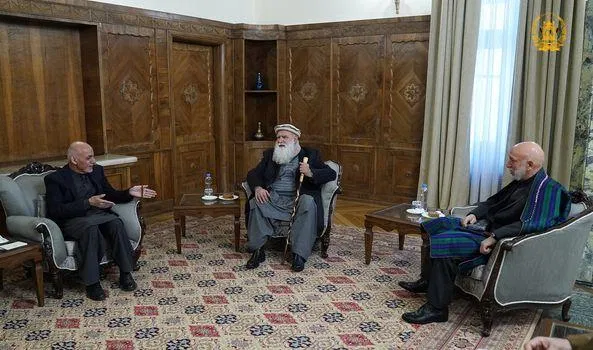 President Ashraf Ghani on Tuesday discussed the peace process related matters with his predecessor Hamid Karzai, High Council for National Reconciliation (HCNR) chairman Dr Abdullah Abdullah and Hezb-i-Da'wat party leader Abdul RabRasoolSayyaf.
A statement from the Presidential Palace said the Tuesday morning meeting discussed the current situation of Afghanistan, ceasefire, reduction in violence, political consensus and emphasized on ensuring a stable peace that could end the bloodshed in Afghanistan.
President Ashraf Ghani stressed the need for political consensus, permanent ceasefire and reduction of violence in the country and assured that in such critical times, consultations with political leaders and the public regarding the peace process would continue.
The meeting comes a day after Hamid Karzai met with Dr. Abdullah.
The statement said the leaders discussed recent progress in the intra-Afghan talks and upcoming steps for the success of the peace parleys.
The Afghan government and Taliban negotiating teams after 80 days of negotiations have agreed on procedural rules.
The second round of talks between the sides began around two weeks ago on January 6th but the two teams have not yet reached an agreement.
The new US government says they would review the peace agreement between the US and the Taliban which was signed during Trump's administration.