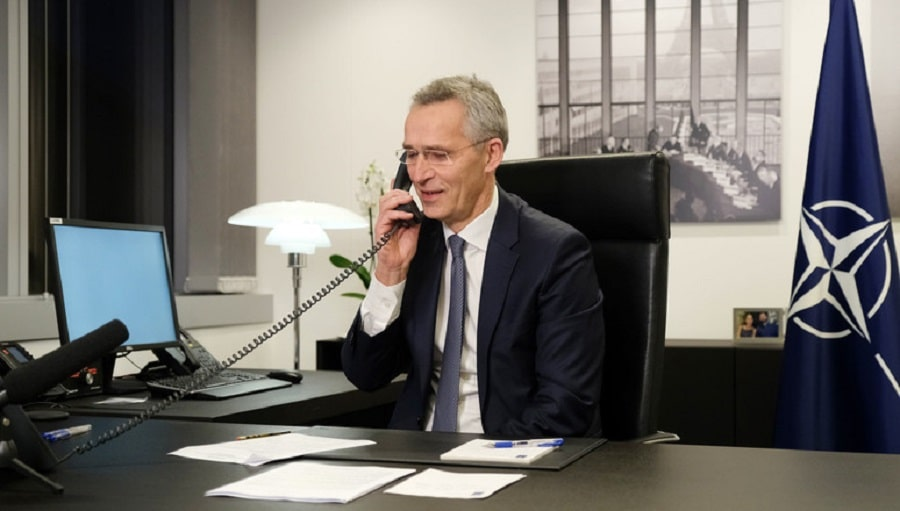 General Jens Stoltenberg, NATO Secretary-General has spoken to US President Joe Biden on "Range of challenges that NATO allies face, such as countering international terrorism" in Afghanistan and Iraq.
In a NATO stated on Tuesday, that Stoltenberg welcomed President Biden's focus on rebuilding alliances, stressing that NATO is a location where Europeans and Americans meet every day, adding that "together, we can face challenges that none of our nations can face alone".
"They agreed to work together on preparing the NATO Summit in Brussels later this year, where leaders will take decisions to make our strong Alliance even stronger," the statement read.
Both of the prominent figures discussed various challenges, like countering international terrorism, dealing with assertive Russia, and addressed implications for the security of the rise of China.
They affirmed their intention to work closely on global challenges such as climate change and the COVID-19 pandemic and stressed the need to maintain momentum for Defense spending for keeping the allied countries safe.
This comes at a time when Italian defense Minister Lorenzo Guerini visited Kabul on Tuesday and met with President Ashraf Ghani and Abdullah Abdullah, HCNR head.
Presidential Palace stated that Guerini discussed bilateral relations and the presence of Italian forces in Afghanistan, during the meeting he expressed his concerns over intensified violence and string of assassinations across Afghanistan.
Guerini also called for an immediate reduction and end to violence, the statement said.
According to the Presidential Palace Statement, "The Italian Defense Minister praised the valor and bravery of the Afghan Defense and Security Forces in the fight against terrorism and said Italy supports a peaceful, united and democratic Afghanistan. "Minister Guerini added that Italy remains committed to continuing its assistance with Afghanistan in various areas and in terms of the presence of Italian forces in Afghanistan within the framework of NATO Resolute Support Mission".
"President Ghani said people of Afghanistan and the world with a unified voice call for halting the violence and asserted Taliban must understand that protraction of the violence will prompt the people of Afghanistan and the world to mobilize against them," read the statement.
"President Ghani also extended gratitude to Italy's support for the development and economic programs in Afghanistan, particularly funding the fourth part of Khwaf-Herat railway project as well as its assistance within the framework of the NATO Resolute Support Mission", the statement concluded.
Meeting with NSA Hamdullah Mohib, Guerini agreed to the need for strengthening a unified, sovereign, and democratic Afghanistan, and protection of all rights of afghans including women's and minority rights.
The Italian Defense expressed his agreement on persevering decades of achievements in Afghanistan.
Head of High Council for National Reconciliation, Abdullah Abdullah also exchanged his views on bilateral relations, the peace process and thanked Italy for their continued support for Afghanistan.