If China is not firing a single bullet, that does not mean China is not fighting. See the ports and military bases in Africa, where China docked its military warships and built huge bases even without firing a bullet.
China, under the disguise of the China-Pakistan Economic Corridor (CPEC), which is part of China's "One Belt, One Road" initiative, is trying to occupy the entire region while avoiding direct confrontation. However, behind the scenes, China is investing a massive amount of money to unleash a war on various fronts.
China is fully backing Pakistan to keep India busy on its borders and internal issues simultaneously. Beijing and Islamabad are funding dozens of armed terrorist groups and supporting anti-India elements that are operating out of India and trying to distort the image of India globally. Their support to anti-India militant groups is not a secret anymore. China and Pakistan are trying to slow down India's economic growth and create internal instability.
Beijing has been manipulating the United Nations. For several years, China has objected India's proposal to blacklist Pakistan-based Jaish-e-Mohammed leader Masood Azhar at the UN, who is responsible for gruesome terrorist attacks against India. He is the mastermind of attacks on the Indian Parliament in 2001, on the Pathankot Air Base in 2016, and on an Indian military convoy at Pulwama in 2019. In May 2019, the UN Security Council finally blacklisted the head of a Pakistan-based terrorist group.[1] However, Masood Azhar is still free. It is believed that China still protects him and that he still hides in Pakistan, though Islamabad claims that he is now in Afghanistan.[2]
The Chinese Communist Party (CCP) has given President Xi Jinping a lifetime presidency to pursue their long-term policy without any hindrance. China's infiltration on Indian territories in Galwan, Aksai Chin, Himachal Pradesh and other areas should not be considered incidental but a deliberate act of aggression by Beijing against India in the region.
Following are areas that China has infiltrated:
Indian State Of Arunachal Pradesh
In Arunachal Pradesh, a state in northeast India, China has adopted an aggressive approach and changed more than 26 names of areas on the map to Chinese names, which is a blatant violation of India's territorial integrity. China is investing a significant amount of money to build railway tracks, road infrastructure, military bases, and a surveillance system in the border areas.
The Deccan Herald further reported: "Beijing claims 90,000 sq km of area in Arunachal Pradesh of India as part of the territory of China and calls it Zangnan or south Tibet. New Delhi, however, rejects Beijing's claim and says that the entire state of Arunachal Pradesh is an integral part of India."[3]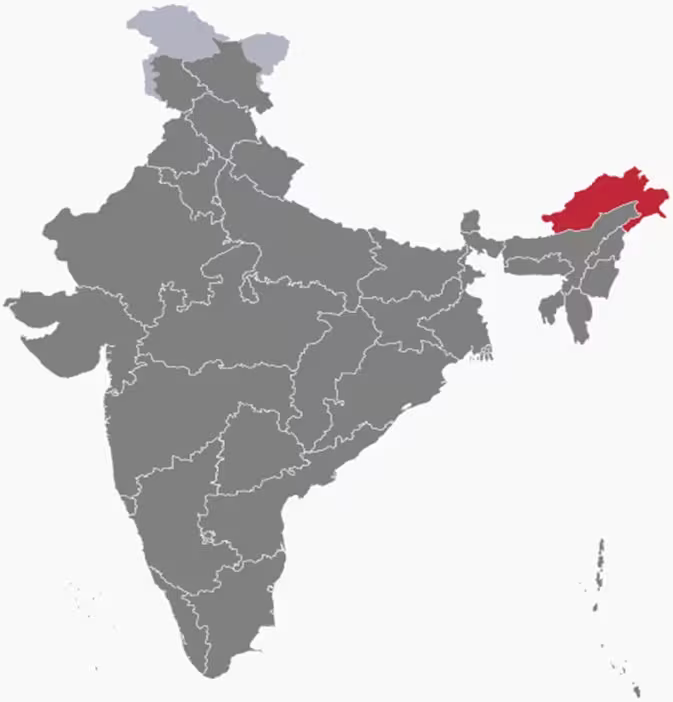 Indian State Of Himachal Pradesh
In November 2021, the state director general police of Himachal Pradesh (a state in the northern part of India), Mr. Sanjay Kundu, said: "During the past year, China has increased the presence of the People's Liberation Army (PLA) and improved its infrastructure and surveillance capability along the border with Himachal Pradesh."[4]
In April 2023, the Deccan Herald reported: "Beijing also claims 2,000 sq km of area in the Himachal Pradesh and Uttarakhand states of India. New Delhi claims that China is illegally occupying about 38,000 sq km of India's territory in Aksai Chin, which borders eastern Ladakh."[5]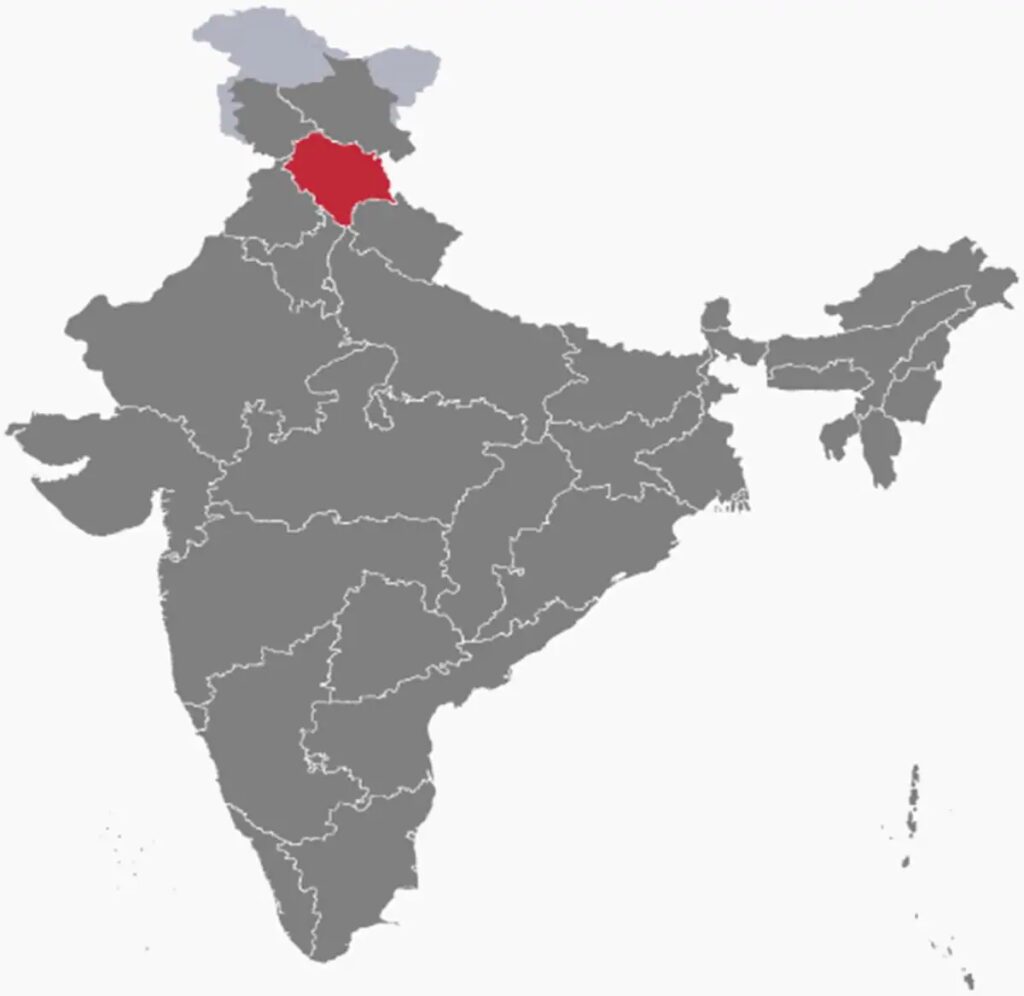 The Maldives
The CCP is trying to isolate India from its neighbors. In the Maldives presidential elections in September, the opposition leader, who is the pro-Chinese head of the People's National Congress (PNC) Mohamed Mohamed Muizzu, defeated the incumbent president Ibrahim Mohamed Solih and will take office on 17 November 2023. This change is not a positive for India because the incoming government is pro-China and anti-India. As reported by Asia Nikkei: "Muizzu's victory, with 54% of the vote, is widely seen as a loss for New Delhi and a win for Beijing, which now appears to have an opportunity to regain its foothold in the strategically situated Indian Ocean archipelago."[6]
Maldives, a tourism hub famous for its breathtaking beaches, is traditionally seen to under Indian security influence, while China has been working tirelessly to penetrate Maldives decision-making. The electoral victory of Muizzu is a wakeup call for India. China now can dock its nuclear capable warships just 70 nautical miles away from India's Minicoy Island and 300 nautical miles away from India's Western Coast. The Maldives' position in the northern Indian Ocean keeps it squarely in the vicinity of waters patrolled and even dominated by Indian Navy warships. This is a sign of war, not only a China-Maldives friendship.
Bhutan
China is continuously trying to influence political parties in Bhutan. India has to be extremely cautious about Bhutan's massive tilt toward China. It is worth noticing that when China and Indian troops clashed on the border, Bhutan supported the Chinese stance on the Indian territory of Doklam. It is time for Indian policymakers to analyze the circumstances that caused Bhutan to jump into the Chinese camp.
As reported by the Indian media outlet Wire: "For India, Doklam holds great significance from a security point of view. China's control over the region would pose a threat to India's Siliguri Corridor, a 22-km stretch that connects the Indian mainland to the Northeast. The stretch, commonly known as the Chicken's Neck, links India with Tibet, Nepal, Bhutan, and Bangladesh."[7]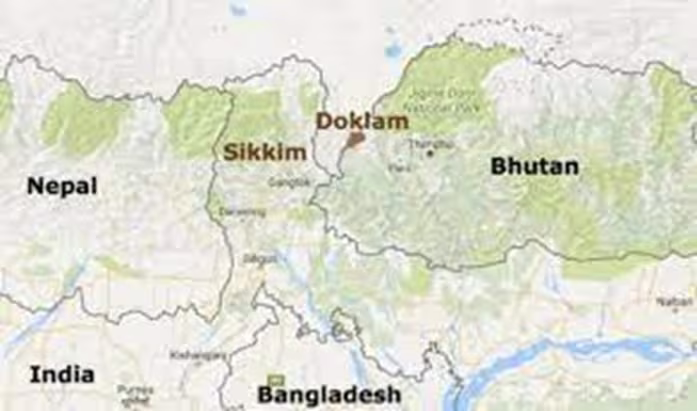 Nepal
We must understand that China is not using its vast economy for the betterment and prosperity of its neighbors but to occupy strategically important regions. China is pursuing its 100-year ambition to conquer its rivals. The PLA is fighting on multiple fronts using various tactics. Economically trapping vulnerable countries, funding proxies to initiate internal conflicts, and sponsoring anti-India narratives for the territorial isolation of India. The money is being utilized to buy their loyalty and make them unable to resist the Chinese presence in their country. China gave loans to Nepal and due to non-payment the CCP has taken the control of the newly constructed international terminal at Pokhara airport, which was financed by Chinese companies. It is not fully functional and might be used against the interests of India in the region.
As reported by the Times of India: "Nepal acquired the land to build the airport in 1976 but the project remained stalled… till 2013 when the Civil Aviation Authority of Nepal signed an agreement with China CAMC Engineering for the construction of the airport… The airport was part of China's ambitions to establish its own sphere of influence as an alternative to American hegemony. To China, few developing nations offered the geopolitical allure of Nepal, its neighbor to the south with close ties to India, an emerging rival for regional dominance… After the airport's construction, Beijing began declaring that it had been part of the Belt and Road Initiative, President Xi Jinping's signature infrastructure campaign, which has doled out an estimated $1 trillion in loans and grants around the world."[8]
Sri Lanka
China is moving fast to take over the control of the Hambantota Port, which is not only a strategically important infrastructure project to be completed with Chinese aid. China inked a 99-year agreement with Sri Lanka, which is not good news for India. As Colombo's biggest container terminal, it is vital for India's shipping. If it is fully controlled by China, India's economy will suffer, as Beijing wants New Delhi's economy to shrink. China is using the Hambantota port as a military base to be ready in the event of an India-China confrontation. In that case, Chinese nuclear warheads may attack India from close range.
India's strategic assets, like the Indian Space Research Organization (ISRO) and the Defense Research and Development Organization (DRDO), are situated near Sri Lanka and due to China's proximity, Indian national interests and military installations are facing threats of being attacked.
According to reports, the Sri Lankan government approached India in 2005 with a proposal for funds to build the Hambantota port but was disappointed by the Indian government's response. India said the Hambantota port was not viable, would not be profitable economically, and building this port would have been a waste of money. But on the other hand, the Chinese government did not prioritize the money but national security and long-term policy. Today, if India would have invested in the Hambantota port, China could have not been able to occupy the port.
Bangladesh
China is approaching all of India's neighbors, in order to isolate New Delhi. The CCP is like a hunting tiger that isolates its prey from the herd and eventually kills it mercilessly. China may take control of yet another important military base, this one in Chittagong, Bangladesh. If this port too falls under the control of the CCP, that will be another threat to India's national security and sovereignty.
Iran
India invested billions in the Chabahar Port, which, located in southeastern Iran, allows it to send humanitarian aid to Afghanistan.[9] However, China has inked a 25-year $400 billion deal agreement with Iran to protect Chinese future ambitions to strengthen Chinese military bases in Iran and Pakistan. China is disparately in need of energy, which it imports via the Straight of Hormuz and the Baloch and Arabian Sea. China also has a plan to deploy its anti-nuclear warship to counter a future war with India.
Afghanistan
Before the Taliban takeover of Kabul, India invested billions of dollars in building infrastructure in Afghanistan. It is an open secret that the Pakistani army and the CCP were supporting the Taliban in Afghanistan to topple the pro-American previously elected governments. Pakistan surely wanted India out of Afghanistan. However, Indian policy makers were not trying to secure their national interests. In 2019, U.S. president Donald Trump said that "India should be in Afghanistan fighting that war instead, along with other neighbors."[10] If India had sent military elements into Afghanistan, today India would have not lost the strategic outpost of Afghanistan, where now Chinese and Pakistan military is building infrastructure to permanently block India.
Now China is signing deals with the Taliban to extract lithium, coal, and other minerals and building an anti-India narrative in Afghanistan. China may use the militants to fight Jihad in Kashmir as Taliban are strategic assets of Islamabad and Beijing.
Pakistan-Occupied Kashmir
Pakistan-occupied Kashmir (PoK) is an integral part of India. All of India's political parties and the government of Prime Minister Narendra Modi have taken a firm position to claim PoK. BJP government ministers have said they will retake the PoK and are ready to sacrifice their lives to get it back to India.
Referring to Indian officials' stance on the Chinese military presence in PoK, the June 25, 2023 issue of the Hindu included a report that read: "The recently developed SH-15, a 155 mm truck-mounted howitzer gun, has also been spotted at some places along the Line of Control (LoC) after it was displayed on Pakistan Day in 2022. Chinese experts were digging tunnels in the Leepa Valley located in PoK, preparatory to building an all-weather road that will serve as an alternative route to reach the Karakoram highway."[11]
In 2012, detailing the massive Chinese long-term presence in PoK, the Indian Defence Review stated: "Apart from roadways, China has invested heavily in infrastructure, telecom, rail links, and tourism. Not only is Beijing investing funds in the upgradation of the Karakoram highway, but it is also planning to build rail links to the Northern Areas [NA, i.e., Pakistan-Occupied Kashmir]. It is also working on hydro-electric projects in the area. The Chinese telecom company, China Mobile, is a player in PoK and parts of Gilgit-Baltistan and is now planning to maximize its coverage by setting up more cell towers and sites. A joint venture named Pakistan-China Sust Port Company is managing the Sust dry port, some 200 kilometers from Gilgit on Karakoram highway along China border. What China is doing is integrating the NA into its sphere of influence with political and economic support and assistance. In this manner, Pakistan is getting the support it needs for its claim to the region."[12]
Recently, massive protests erupted in PoK as people took to the streets demanding basic fundamental rights. The sudden uprising of the people of PoK should not be overlooked and their demand to join India should be endorsed.
Pakistan-Occupied Balochistan
China is helping Pakistan build the China Pakistan Economic Corridor (CPEC), which is primarily based on Balochistan's port at Gwadar. The people of Pakistan-occupied Balochistan (PoB) have repeatedly said that CPEC is not an economic project but a military project. Even Pakistan members of parliament do not have the details of CPEC projects.
It is not a secret any more that in PoB China is building underground tunnels in the Jiwani and Sonmiani coastal areas. There are enormous projects being completed in Pasni, Ormara, and Gwadar itself. China funded completion of Asia's biggest International Airport of Gwadar, which is now operational.
CPEC is widely opposed by the people of Balochistan, as they say that it is a destructive project. The Baloch people have the right to defend their resources and sovereignty.
For 50 years, China has been looting the natural resources of Balochistan, such as gold, copper, iron, and other metals from Balochistan's Saindak and Rekodik mines. The local people of Balochistan are deprived of fundamental rights and live below the poverty line. To suppress their homegrown liberation movement, China is providing military assistance to the Pakistan army to conduct ruthless military offensives across Balochistan.
China is building the Gwadar Port and an underground nuclear submarine dock in Somiani. And if a war is going to erupt between China and India, the CCP, having access to Baloch land, could easily attack India with Chinese submarines and the rest of the Chinese naval forces. China is also building airports in PoB as well, so there is a chance that the CCP could bring in its air force as well.
Conclusion
China is pursuing its 100-year plan to become a world superpower. Its doctrine is to encircle and block India and disperse any future nuclear threat to China.
By occupying Balochistan's major important regional areas it can block India's marine trade routes, attack India on very short notice, and stop India's nuclear missiles at mid-range. The Chinese presence in PoB is a threat to India's Rajasthan, Gujarat, Punjab, Maharashtra, and Delhi. Chinese influence in PoK is a threat to the Kashmir, Ladakh, and Himachal Pradesh regions. Chinese dominance in Sri Lanka is a threat to India's trade and strategic positions. The pro-Chinese regime in Bhutan can create more problems for India's defense and national security. China's presence in Nepal can disturb the security of the states of Bihar and Uttar Pradesh.
It is a good time for India to approach Balochistan's leadership and provide them humanitarian assistance and all possible political and diplomatic support. There are far more cases in which India ignored its neighbors and was increasingly isolated as a result. India did not send troops to Afghanistan to help the democratic forces of Afghanistan, and eventually they were pushed away by Pakistan and China to install radical anti-India forces.
Only Balochistan is resisting Chinese hegemony. The Baloch are resisting Pakistan and Chinese military expansionist designs with very little resources. They must be supported and empowered. Rahimyar Khan, Dera Ghazi Khan, and Multan are historic territories of Balochistan that borders India, and the Chinese presence in these areas can be challenged just as in the rest of Balochistan. India needs oil, gas, and other energy to boost its economy. Balochistan can help India fulfill its energy needs and have access to European markets via land and sea routes.
[1] Reuters.com/article/india-kashmir-pakistan/india-hails-u-n-blacklisting-of-masood-azhar-idINKCN1S747V, May 1, 2019.
[2] Thediplomat.com/2022/09/the-curious-case-of-masood-azhars-disappearance/, September 29, 2022.
[3] Deccanherald.com/india/china-at-it-again-renames-11-places-in-indias-arunachal-pradesh-in-mandarin-tibetan-to-assert-territorial-claim-1206311.html, April 3, 2023.
[4] Hindustantimes.com/cities/chandigarh-news/china-building-up-troops-infrastructure-along-himachal-border-101636704403033.html, November 13, 2021.
[5] Deccanherald.com/india/china-at-it-again-renames-11-places-in-indias-arunachal-pradesh-in-mandarin-tibetan-to-assert-territorial-claim-1206311.html, April 3, 2023.
[6] Asia.nikkei.com/Politics/Maldives-Muizzu-marches-to-victory-on-anti-India-drumbeat, October 1, 2023.
[7] Thewire.in/south-asia/china-bhutan-vow-to-conclude-border-talks-soon-will-have-implications-for-india, October 24, 2023.
[8] Timesofindia.indiatimes.com/world/south-asia/debt-hole-china-built-pokhara-international-airport-may-become-nepals-gwadar-port/articleshow/104473936.cms?from=mdr, October 17, 2023.
[9] Thehindubusinessline.com/economy/logistics/chabahar-port-india-speeds-up-work-on-long-term-contract-details/article67266476.ece, September 4, 2023.
[10] Hindustantimes.com/world-news/why-isn-t-india-there-trump-signals-military-presence-in-afghanistan/story-2SLEVZZ8xj7yJxeevkeOsN.html, January 3, 2019.
[11] Thehindu.com/news/national/pakistanis-deploying-latest-chinese-supplied-cannon-on-loc-officials/article67008814.ece, June 25, 2023
[12] Indiandefencereview.com/interviews/facts-about-chinese-presence-in-pok, February 13, 2012.